If you've visited and enjoyed Mercado Gastronómico San Juan in Palma, you're likely to enjoy the new Mercat 1930, which has opened in an iconic building on Palma's Paseo Marítimo. Mercat 1930 – Palma Gastronomic Market opened earlier this month and has a similar concept to San Juan, although it is smaller.
It's easy to find, being adjacent to Tito's nightclub (can't miss that one!) and opposite the new Social Boutique Club (due to open soon) in the middle of the Paseo. Mercat 1930 has a terrace area (in front of Tito's) for al fresco eating and drinking, but I'd recommend eating indoors for the ambience and industrial-chic décor.
Back in the day…
The building itself has a great history: it opened as a hotel in 1910, when the Paseo didn't exist; at that time, there were just a few rocks between the hotel's terrace and the Mediterranean Sea.  In the 1930s the Mallorcan architect Francesc Roca Simó reformed the building, adding striking Art Deco features to the Gran Hotel Mediterráneo. It would have been a major landmark at that time and the developers of the new Mercat 1930 – Palma Gastronomic Market clearly hope that this prestigious building will again become a venue for socializing, eating, and drinking.
Eat and drink
Mercat 1930 has 16 stands – 13 for different types of food and three for drinks (beers, premium drinks – spirits, and a vermouth bar) – although all the food stands also sell wines and soft drinks. Browse from stand to stand to check out what's on offer, buy your food, and eat it perched on a stool at the long central table.
I'd been to look inside Mercat 1930 on the Monday after it opened but had already eaten lunch, so The Boss and I returned yesterday to try the food. We'll be back…
Mercat 1930 – Palma Gastronomic Market is open every day from 12 noon until midnight.
NEWS
I was pleased to receive a recent notification from Anuj Agarwal, founder of Feedspot, that Eat, drink, sleep, Mallorca had been selected as one of the top 50 Gastronomy Blogs on the web. Actually I was pretty stunned by that news – so thanks, guys.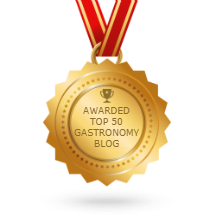 ©Jan Edwards 2017